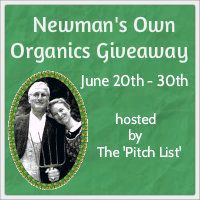 I was given the chance to review some awesome food from:
NEWMAN'S OWN ORGANIC
I was surprised to receive a huge box of their products!
GREAT TASTING PRODUCTS THAT HAPPEN TO BE ORGANIC!
This is the Second Generation, run by Paul Newman's daughter, Nell Newman.
All of their products are made with certified organic ingredients!
I really like the idea of eating organic food, you just never know anymore, what is in the food we buy.
You can read about Organic Food on their site.  It explains it very well!  You can see all of their products and where to buy them.  They also have some great recipes!
The first thing we opened was the Sour Cherry Licorice. ( My son's choice)
I've always liked licorice and this was very good.  It was just the right amount of "sour".  I don't like anything too sour, but it was just right.
Next, I got to pick what to open, and I picked the Double Chocolate Chip Cookies.
Chocolate is my all time favorite food! (Of sweets, that is)  I have to admit, being organic I didn't know if I would love them or not.  But, honestly, I really did!  They are very "chocolatey" and just delicious!
Next, my husband got to pick.  He decided on the Mocha Milk Chocolate Bar.
And guess what?  Yes, very good!  I'm a big chocolate candy bar eater.  And I'm telling you these are really scrumptious!  I loved each and every kind!
Then I just had to taste the other candy bars!  There was a Peanut Butter Cup, Mint, and Caramel.  Since there's three cups of each kind, we all got to taste each one.
They were all very good!  I was especially loving the caramels!
The Newman-O's were on my radar for the next afternoon!  I couldn't wait to try to the chocolate-filled ones.
I ate one with my cup of tea.  Melted it, just a little, and wow!  It was a fantastic, melted chocolate cookie!
This family highly recommends Newman's Own Organic foods!  You can check out all their products on their website and even find some coupons there!
You can enter to win a Box of  Newman's Own Organics Goodies  on all of  'The Pitch List ' Blogs!
Espacularaiesa!      Love To Encourage You!       Band V Savings!   
The more you enter, the better chance you have of winning one!
Enter on the Raffelcopter Below:
I received items to review. All opinions are my own!